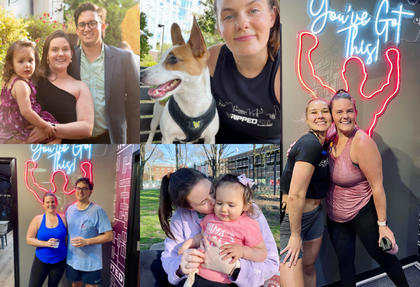 October Ripped Person – Erin
September 28, 2022
I took a few classes at Ripped before the pandemic, but I didn't become consistent until February 2022. I have struggled with working out consistently my entire life. What changed for me was that during the pandemic, I was blessed with my beautiful daughter.
For a year and a half after after she was born, I struggled to feel like myself. I wasn't working out. I wasn't eating well. I wasn't taking care of myself. Toward the beginning of February 2022, I saw Ripped post on social about a deal for postpartum mothers, and I decided to try my best to get back in shape.
I have been consistently going to Ripped classes 4-6 times per week since then, and my life has drastically changed for the better. I have more energy. I feel like I have ownership of my body again. My mental health has improved. And my hair started to grow back after postpartum hair loss!! (Seriously my hair didn't grow for a year after I cut it in February 2021– 5 months postpartum. Two weeks at Ripped, it grew a full inch. It was wild.)Ripped offered me a safe place to show up as a beginner. The trainers offered me nothing but support and encouragement. You truly are part of a family at Ripped, which helps make it easy to find consistency— I actually ENJOY being there vs. dreading working out. Although I could do with less incline 10 sets.
For anyone struggling to get back in the gym, for whatever reason it may be, take it one day at a time. Try your best. Show up where you are— every day is going to be different and feel different, but show up for yourself— whatever that means that day.
And to my Ripped family: thank you for providing a space for everyone, no matter their fitness level. Catch me on T2!