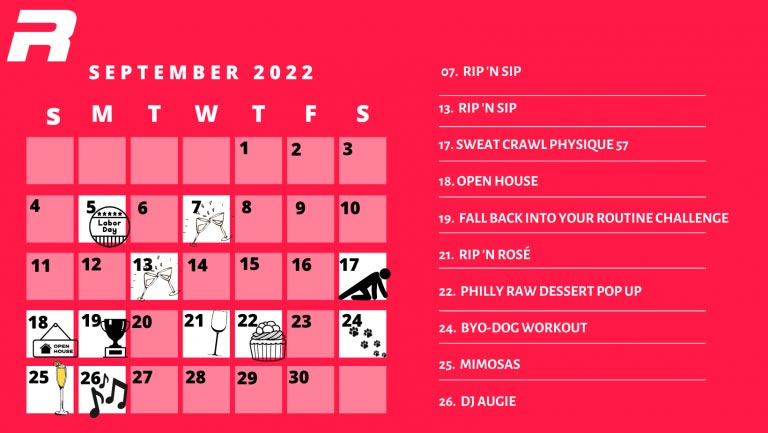 September Events
September 4, 2022
We're gearing up for a fun September with a lot of great events to make getting Ripped even better! Bring your friends or meet some of our great RippedFam! Add these events to your calendar, plan your classes around them, or save the date! We're going to have a great month at Ripped!

Wednesday, Sep 7th (5-7PM): Rip 'N Sip. Center City Sips may have ended, but we're keeping the fun rolling at Ripped! Join us for class and stay for Evil Genius beer post class! A perfect time to sip, chat and get to know your RippedFam!
Tuesday, Sep 13th (6-10AM + 5-7PM): Rip 'N Sip. We're bringing out protein drinks for the morning from OWYN + Owl's Brew for the evening! Take class + stay to sip pos-workout.
Saturday, Sep 17th (12PM): Sweat Crawl with Physique57. You'll start at Ripped for your favorite HIIT workout. We'll do 15 minutes on the treads + 15 minutes on the floor for strength training. Then we're off to Physique57! They recently opened in the old SLT space. Experience 30 minutes of their fresh and fierce combo of cardio and strength barre training! Using their proprietary, science-backed process of Interval Overload, get ready for high intensity, low-impact sequences set to invigorating beats. All levels welcome! Post workout we'll have mimosas, snacks and raffles! Get ready for a super fun day! Sign up via our website with the RippedPHL + Physique57 Sweat Crawl Single Drop In.

Sunday, Sep 18th (2:30-5:30PM): Our First RippedPHL Open House! Those who have never been to Ripped can stop by, ask questions, get a tour of our space, get huge discounts on new memberships + mingle with current RippedFam for drinks and bites. Already part of the RippedFam? Well, today is your day to get discounts on merchandise, win free items, have drinks and snacks with all of your fav people. Mark this day on your calendar for a party you won't want to miss.

Monday, Sep 19th: Our Fall Back Into Your Routine Challenge starts! Take 9 classes in 20 days. Grab a tracker at the front desk. Mark off each class you take. If you finish your 9 classes get entered to win 3 different prizes: Dermaplaning and mask from Forever Young, 3 classes at Pure Barre, or the Ripped Essentials gift pack (personal training session + some of our fav merchants).

Wednesday, Sep 21st (5-7PM): Rip 'N Rosé. Take class and stay for Winefarm Rosé! Perfect day to bring a friend with you to class or meet our RippedFam. These events are always a fun way to meet new people and chat with our front desk and trainers!

Thursday, Sep 22nd (4:30-7PM): Philly Raw Dessert will be doing a pop-up with samples of their delicious treats post class!

Saturday, Sep 24th (10:30AM): BYO-Dog Workout! Our fav day ever. Join us with (or without) your pup. We'll have dog-friendly vendors, free cocktail for the hoomans + lots of amazing raffle prizes. Sign up with any class pack, single drop in, or membership. You'll automatically get 1 ticket entry in the raffles for attending + 1 additional ticket for every $5 you donate to ACCT Philly. Vendors & raffle items from Opportunity Barks, Jangos Bandanas, Ruff Life, We Love PHL Pets, Salty Paws + Farina Noodle To Go Meals for sale. All class sign ups + raffle money are donated to ACCTPhilly. Come out for this fun day and a great way to support our city shelter.

Sunday, Sep 25th: Eagles Pep Rally. Join us in studio post-class for mimosas and coffee! A fun way to get your Sunday started!!

Monday, Sep 26th (5PM + 6PM): Live DJ class with DJ Augie! DJ Augie will be spinning the beats while you're getting Ripped. Always a fan favorite class!

Friday, Sep 30th: Special Happy Hour for the 50 Class Club! Have you taken 50+ classes (purchased from RippedPHL)? Then get a special invite for a private happy hour! Save the date and check your email for more info!