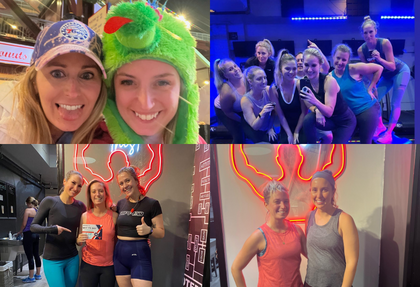 November Ripped Person – Maggie V.
October 28, 2022
Before the pandemic, I was trying out all sorts of gyms. Over time I developed 4 herniated discs in my next. It was embarrassing to keep having to remind trainers of my injury and say "hey I can't do this." Flash forward to covid, I just stopped working out altogether.  In November 2020, Emily D'Ulisse convinced me to come to my first outdoor class at Ripped. Katie took the time and effort to show me alternative exercises and helped me with my 5 lb weights ( she was even super nice 😜)
Over the course of the next 2 years, I kept going to classes and the trainers took the time to help with my neck problems and never made me feel weird or awkward when I couldn't do certain exercises They just showed me alternatives.  I even got up to 20 lbs weights and couldn't believe the progress.  I enjoyed going to the gym and working out and making my muscles stronger seems to help my neck issues.
Ripped is more of a family than just a gym.  When my mom got sick with cancer and passed away they were so supportive.  They helped me through many tears and breakdowns and took the time to remind me to go slow because my body needed to rest.  They not only took watched out for me physically but were there for me mentally and still are.
Not to mention, this is the most fun gym! Each trainer has their own personality and great qualities that make it so fun to be around. From rip and sips to BYOB doggies classes- there are always so many events going on that make ripped feel more like hanging with friends ( with a lot of sweat) ❤️❤️❤️ I love it here.