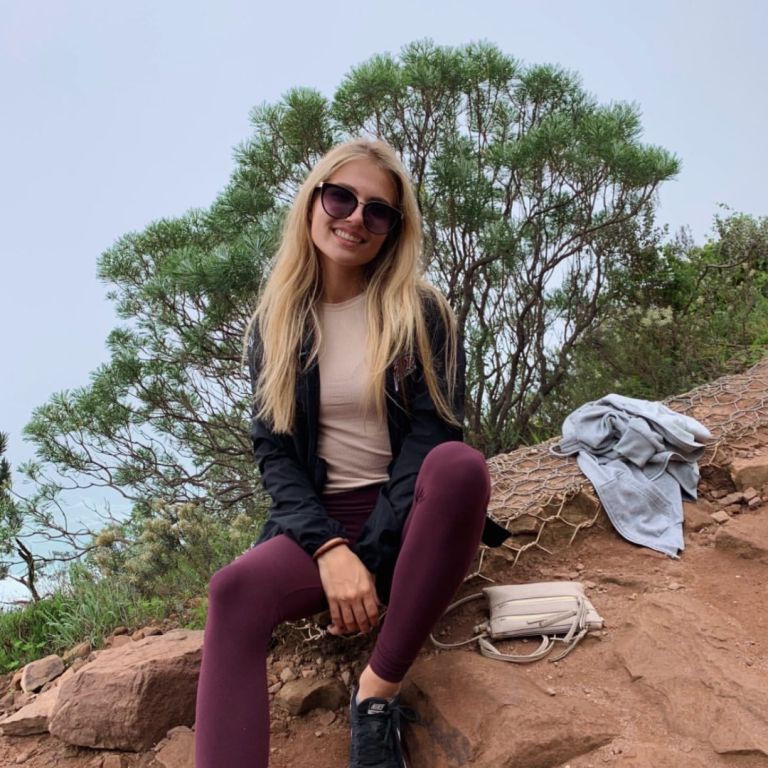 April Ripped Person – Ally
August 10, 2022
How did you find Ripped?
I played Varsity Field Hockey in high school, but I was never truly an athlete (I was known as the "social captain") and I never really enjoyed working out. I always wanted to enjoy working out, but I really struggled to find the motivation as I never knew what I was doing and I was incredibly out-of-shape. Therefore, I figured that I would benefit from group-fitness classes. I am currently a sophomore at the University of Pennsylvania so when I moved back to campus at the beginning of the school year I started researching nearby fitness classes online. Ripped instantly popped up and their website was really intriguing. I had never done a HITT class before or ever really lifted weights (it had also been a solid two years since I had sprinted), but the videos made the class look super fun and they offered a wide variety of class times which was essential for me as a college student. After reading through some of the testimonials and the FAQ, I instantly signed up for the first timer package to give it a try.
Do you remember your first class? , what was your first thought before class and your thought afterwards?
Yes!! My first class was on a Wednesday (Butt & Legs) with Katie. I arrived at the studio super early as I was so nervous seeing as I did not know anybody and I had no idea what to expect. Thankfully, my nervous were instantly calmed by Katie as she was so sweet and welcoming. She gave me a studio tour, taught me how to work the treadmills, and got me all situated with a towel. Since I had not worked out in a very long time, I thought that there was no way I would be able to finish/keep up with the class. To my surprise, I did it! While it was challenging, Katie was an incredible instructor as she coached our entire class through every strength exercise and through the tread sets so seamlessly. I never felt lost and she was very encouraging and energetic. The music was also very motivating and the whole atmosphere of the studio was so fun. I love how you can feed off the energy of the rest of class without it feeling like an actual competition in the slightest. Completing that class was easily one of my proudest moments all year. I truly could not stop smiling for the rest of the day. I felt so strong and powerful even though I was barely lifting 10lbs and I did not even attempt to push past Speed 2 on the treadmills. As soon as I got home, I started researching their membership packages as I knew that I wanted to keep coming back! Luckily, they had a membership package that was perfect for me as it was/is incredibly accommodating and allows me to take 30 classes/month for such an amazing price.
Is there anything you've achieved in class? New speed, more confidence, new weights?
Ripped has helped me to achieve new speed, endurance, strength, and most importantly – confidence. My day is always significantly better when I work out in the morning and I am really proud of the accomplishments I have achieved thanks to Ripped classes! I have also defiantly fallen in love with working out and I miss Ripped so much whenever I go home for extended periods of time.
What is your main goal when coming to ripped?
My main goals when coming to Ripped are to get stronger, improve my form, boost my energy, and improve my mood! I have noticed that working out consistently has done wonders for both my physical and mental health. For instance, it has greatly improved the quality of my sleep, motivated me to want to eat more nutritiously, and it has been a great outlet for me to relieve my stress. Ripped makes it very easy to stay consistent with my workout routine as every class and instructor is unique so I never get bored. I also love how they breakdown their week so that everyday has a different "muscle group" focus. I hope that someday I can lift heavier weights and that I can consistently stay at Speed 3 throughout the entirety of every class!!
In what ways are you a different person today after taking classes at Ripped ?
Ripped classes have made me a much healthier, happier, and more grateful person. I am definitely more conscious of the amount of water that I drink, the quality of my sleep, the foods that I eat, etc as I care more about taking care of myself and feeling my best. I realized how good healthy feels and I have learned how happy exercise makes me. I am very grateful for my body for allowing me to do things like Ripped classes. I am also just so grateful for all of the relationships that I have made with the Ripped staff and other Ripped members. I really look forward to chatting with Ripped's staff every morning before and after class and of course taking their classes as well! They are all so passionate, talented, amusing, patient, and thoughtful. They all made a point to get to know me right away which really made me feel so special. I have also been able to make some incredible friends thanks to Ripped like my friend Zoe Rafferty. One day in the locker room she complemented my hair and ever since we have become really good friends even though we have an age gap of almost nine years! We have made it a routine to walk to and from class together almost everyday to the take the 7am classes together. All of the other Ripped members are also so kind and supportive.
Feel free to share anything else (:
Besides the amazing classes, community, and staff – Ripped is also so special because they go out of their way to put on all of these super fun challenges, giveaways, and events every month. They are all so fun and well-done. I also am a huge fan of their smoothie bar – there is nothing better than finishing a hard class to walk out to a freshly made protein smoothie and Ripped's complementary cold towels! I have tried every single one on the menu and they are so nutritious and taste amazing — wayyyy better than the dining hall 🙂
Let me know if you need me shorten my responses or add/ change anything!!! Hope everything is ok 🙂 Thank you SO much again I am seriously so honored that I am the member of the month!!! You guys are the best & I seriously am so grateful for Ripped – it has changed my life for the better! xx