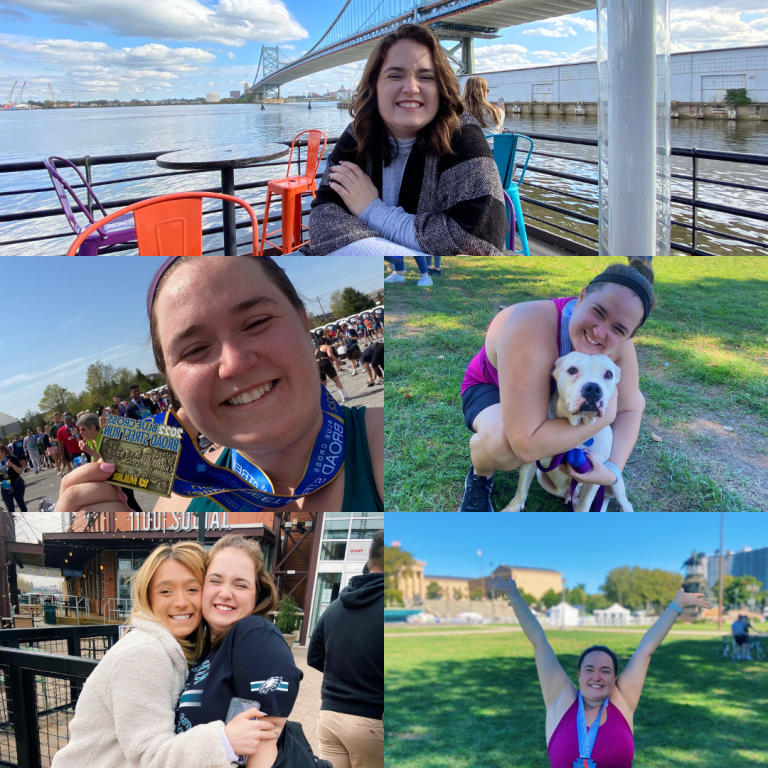 February Ripped Person – Jess
February 1, 2023
I am originally from New Jersey but moved to Philadelphia in Summer of 2020 following my graduation from Lehigh University. I work at the Children's Hospital of Philadelphia at the Center for Autism Research where I work as a research coordinator on a study looking at social emotional behaviors in children and adolescents. I am hoping to go back to school to get my Ph.D. and become a child psychologist! Some fun facts about me are that my roommate and I foster dogs through PAWS (peep our foster Toast in the photos!), I love to cook, and my go to karaoke song is Gimme Gimme from Mamma Mia!
My fitness journey has not been a linear one. Growing up I played field hockey & lacrosse and I always loved a team atmosphere but when it came to fitness on my own it always felt like a chore and not something I enjoyed. Back then I would have declared myself the president of the I hate running club. Cue the pandemic— I like many others were looking for new hobbies and one cold December day I started day 1 of Couch to 10k a program designed for non-runners to get into running. And wow did it work, I ran my first half marathon 10 months later at the Philadelphia Distance Run and would now declare myself the president of the I love running club.
The winters have always been harder for me to self motivate in terms of exercise and after a summer of less consistent running I was looking for a way to keep myself accountable. I had been a loyal insta follower of Nat (@naturallybeingnat) for years, shoutout to my college bestie Miriam who introduced me to Nat's content, and I had seen her post about Ripped before. I decided to give it a try and since my first class I have been hooked. I look forward to my morning classes every week, even when Katie makes me do way too many frog pulses, and I am so happy I have found a place where I can channel any of my life stress into an amazing workout. What really separates Ripped from other fitness studios I have been to is the inclusive community it cultivates. All of the trainers are so encouraging and their focus on giving my personal best really motivates me in class and I never feel like I am not fast enough or strong enough to be there. Ripped is for everyone, no matter your fitness level or health goals, they have created an environment for everyone to succeed in.