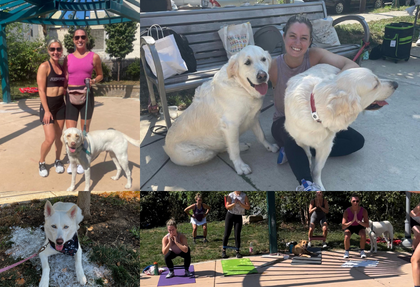 BYO-DOG Class!
August 27, 2022
We had a fantastic day at Carpenter Square (17th and Carpenter) for our BYO-Dog class! We had so much fun and raised a lot of money for ACCT Philly. Haven't heard about ACCT? It's our city shelter. Any dog who is a stray or needs to be rehomed goes through the city shelter. It's city-funded, which means they are short on resources and beyond overcrowded right now. Any donation helps to save the life of an animal who finds its way to the shelter. Looking for a new friend? They have tons of great boys and girls to make your life complete!

We kicked off the event with a booty band workout with Danielle! The workout is easily modifiable to be more difficult or a little more accessible. It truly is more about the pups so don't worry if workouts aren't your thing. Not everyone in attendance has a dog so feel free to bring yours, leave yours at home, or if you don't have one…we have plenty of four-legged friends to pet! Most pups are happy to lay by their parent or plenty of people are willing to help watch your little one while you get your sweat on.

Once the workout ended the real fun begins! Each class we have something different. Some are vendors with great dog-friendly items to buy. Others have snacks for the pups or hoomans. This class we had Farina Noodle, Jango's Bandanas, Opportunity Barks, Tails and Ales Philly Dog Care, and Salty Paws Dog Ice Cream

We ended the event with a raffle – each ticket was from money donated directly to ACCT with chances to win some really awesome prizes! Congrats to all of our raffle winners and huge thanks to all who attended and vendors who joined us. Couldn't make this one? We got you….next one will be coming up end of September (plus, even better weather for outdoor workouts!).