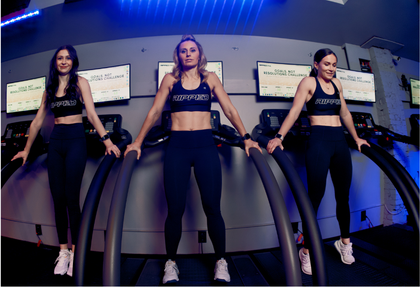 How to fit in a midday workout
August 12, 2022
Making time for workouts is challenging enough, let alone fitting it in during an hour when you're supposed to be eating a sandwich on the run. While the common response is "I could never do that", but working out over your lunch break can actually make you a more productive employee, less stressed, and give you time to commit to your goals. Here's some advice on how to make lunch break workouts happen:
Work Wellness Matters
Be open and honest with your boss and coworkers. Let them know when you're in the office you'll give 100% of your time and effort to your work, over lunch, you're taking time for yourself. While you may be concerned about people's reaction to you jumping out of the office for you an hour, truth is most people agree work wellness is important. Getting a healthy sweat in can make you better at dealing with other people, and more focused and relaxed. Most companies have a wellness plan to reimburse for workouts, discounted insurance rates, or may have a fit club you can help inspire to join you at your favorite studio. PS – most studios offer discounted rates for groups of people from the same company. Just ask!
Work Comes First
Keep in mind, your midday workout is a luxury, not a given. Commit to being a little flexible for your midday workout if a meeting or issues comes up. Sign up for class last minute when you know you're going to be able to jump out of the office. It can be quite frustrating if something comes up, but that's part of work. Take care of whatever issue you have, and try to fit in your sweat sesh after work. It may also mean you need to take a little time before or after your work day to catch up on a few things to compensate for the hour you skipped out of the office. Remember, work/life is a balance. You may need to give a little to take a little.
Be Prepared
Pack your gym bag the night before with everything you need for your workout and to get you ready to head back to work. Leave your gym shoes and a backup pair of gym clothes at your desk or in your car so you don't forget any of the essentials (ie – a reason to miss your workout). Keep extra underwear, socks, etc in your bag in case you forget anything. Yes, it may seem like a pain to carry your bag around, but if you get a chance to slip out of the office, or need a little stress relief it's better to always have everything you need with you.
Pick studios with showers
Rinse off quick after your workout before you head back to work. Added bonus are studios that offer towels, and other essentials to help you get ready (without hauling your entire bathroom with you). Dry shampoo is a life saver. Use dry shampoos, and facial wipes to help tidy up your hair and face post workout. These items are essential to getting back to the office quickly. Don't forget any makeup you can't live without touching up (especially foundation, mascara and eye liner). Ladies with longer hair, throw your hair in a low bun for the remainder of the day for those more intense workouts.
Plan or pack snacks and lunch
Pack snacks to give you energy for your workout. Plan something with protein and good carbs to consume about 60 minutes before your high intensity workout. A protein bar, or apples with peanut butter are great pre workout options that are easy to transport. Make sure you order a smoothie ready to go for after class for a healthy dose of recovery protein and carbs. These not only taste amazing, and are a quick post workout option, but help your body recover from an intense workout. Pack or order in advance a healthy lunch to bring back to the office with you. Just because you skipped your lunch hour doesn't mean you should skip your lunch
Midday Workouts Are Key
Working out midday gives you a refreshing break from sitting at your desk all day. Research shows it can decrease stress, increase health, creativity, and enthusiasm. Research also shows that the shorter, more intense workouts area actually better for weight loss, toning, and overall health. Getting up and moving can reduce your afternoon crash, and give you a much needed break from staring at your computer all day. It takes a little planning, but tackle your workload with a little extra stamina by getting a midday sweat in!