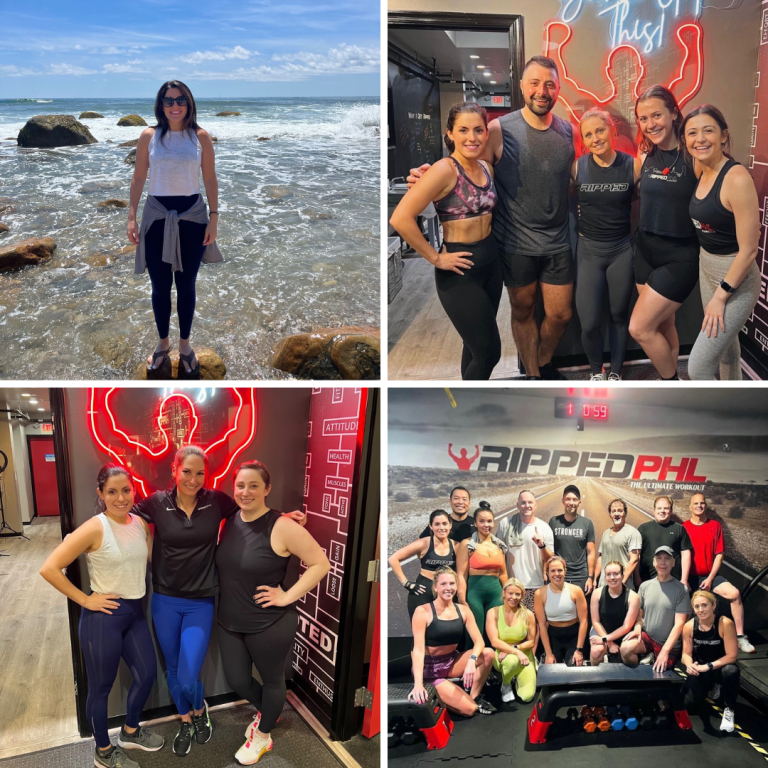 August Ripped Person – Amy Rose
August 10, 2022
My RippedPHL journey began SIX YEARS AGO when I met Katie at her first free class at Athleta on Walnut Street. Her in-store work-out was all it took for me see to her passion and love for creating an inclusive fitness community; the rest was history!
As an avid dancer, being active and part of a community was always part of my life. Things took a turn in High School when a high ankle sprain went misdiagnosed. After having surgery I suffered from Reflex Neurovascular Dystrophy and lost feeling from my knee down. After a long course of aggressive Physical and Occupational Therapy locally here in Philadelphia, at the Children's Hospital Seashore House; I had to start from scratch and retrain my leg how to walk and run again. After recovering from this injury, I never really found my niche again where I could have both a community and a place to be active while regaining the strength, balance and mobility that I lost. As they say, I had to learn to trust the process.
When I started at RippedPHL, I could not run the tread program and was using 5lb dumbbells. Almost 400 + classes later, I am running incline sprints and lifting in personal training. What continues to keep me coming back every week (at 6AM with its_fit_leek) is I can tailor the work-outs for where I'm at while still having fun. And most of all, having the most supportive and encouraging trainers and classmates. There is NEVER a day I take for granted my mobility and everything I have accomplished at RippedPHL so far.
On this journey not only have I gained confidence in my new found strength, but I also found my RippedBFF, Amanda Jones. We have become best friends who keep one another accountable, hit new PR's together and most of all have a lot of fun while doing it! (Even if we are rolling our eyes on incline 12).
When you can't find me on Tread 7, I love trying new restaurants in the city, traveling, spending time with my family and friends and hanging out my two pups, Lilly and Rosie.
THANK YOU to the Ripped Family for always being there for me and most especially to the trainers for giving me the extra push I need to go outside of my comfort zone. I found my community, my second family and a place where I can be my best possible self!