PRICING
Try your first class for a discounted $18!! -or- our introductory 3 pack of classes for $45*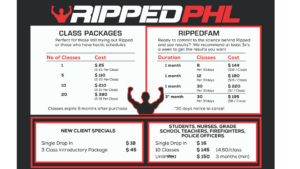 New Monthly Pricing!!  Ready to commit to get a Ripped body?  The science behind our workout requires some commitment to get the most out of your workout.  3x's a week or more is ideal to get the results you desire.  Monthly 8/12/30 sessions are a more accessible way to be a part of the RippedFam.  They expire at the end of 30 days with no commitment to renew (though we know you'll want to!).
Really to really commit?  3 month minimum autopay is our best deal!  Requires 3 month minimum.  30 days notice to cancel.
First time at Ripped?
 Create a MINDBODY account via the "sign up" link below
Call, email or stop by the studio to get your discounted first package or class below
New Client Specials!!
First Class Introductory Rate: $18*
3 Class Introductory Package: $45*
*must purchase/reserve in studio and can either do discounted first class OR 3 introductory class pack.  Create your MINDBODY account and call or email to purchase your class prior to arrival.  For first discounted class must provide your ID when you arrive for your class.
The details – unlimited monthly autopay members are allowed to freeze their account.  Wedding and baby specials are not allowed to freeze unless due to injury or doctor request.  We have a 12-hour cancellation policy for all class package members.  Any class cancelled less than 12 hours prior to class will lose their class.  Autopay members have a 6-hour cancellation policy.  All classes cancelled less than 6 hours prior to class will be charged a $10 fee.

RippedPHL corporate or private events
Email us pfainfo@rippedphl.com for questions regarding booking corporate or private birthday parties, bridal parties, events, etc.