College Ambassador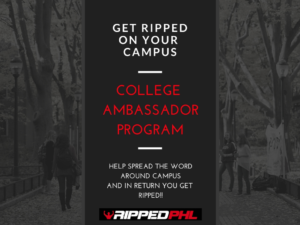 RippedPHL is looking for undergraduate and graduate students to be part of our new RippedPHL College Ambassador program!
RippedPHL College Ambassadors will work with our team to introduce your student community to RippedPHL through events & social media. For the 2016 Fall Semester, we are looking for undergraduate and graduate students from all local tri-state area Colleges & Universities!
Compensation is a FREE Unlimited Membership, and ideal candidates will have a love for fitness and a naturally outgoing personality. You'll also have an amazing work ethic, great interpersonal skills and be active in your community.
By now we're sure you are amped and ready to spread the word!
Responsibilities include, but are not limited to:
Social Media support
Introduce aspiring fitness buffs to RippedPHL
Promote RippedPHL on-campus & in clubs, athletic teams, etc.
To apply, Email Us Your:
resume
social media info (like Twitter or Instagram handle)
Tell us a little about yourself!
Questions or comments? Email pfainfo@rippedphl.com