Get to Know Us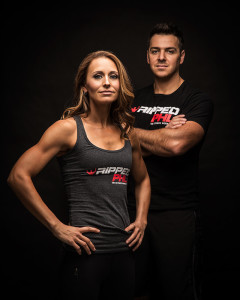 RippedPHL is the creation of taking over 20 years of combined fitness experience to create the Ultimate Workout.
Philadelphia residents, Katie Costalas and Charbel Sarkis, have spent the past 2 years crafting a highly effective format of interval training on industry-leading Woodway treadmills and strength equipment.  We'll switch up muscle groups on different days to give you a full body workout, while allowing time for muscles to recover between classes.
We didn't overlook any detail for this class or studio. An industrial feel to the lobby will lead into an upscale, edgy, almost nightclub-ish studio complete with dim lighting, energetic music, and personalized LCD TVs for each participant.
You pick your intensity as we guide you through this fat burning, muscle building class designed for all levels. Heart rate monitors provide you the feedback you need to ensure you're staying at the level you desire.
As a lifelong athlete, Katie has always found a way to keep her passion of fitness and training as a priority in life, even when she worked in the financial world. In 2012, Katie moved into the fitness industry full-time and has since focused 100% of her efforts both professionally and personally into becoming an elite personal trainer.  As a National Honors Society student, Katie obtained a double major in Finance and Management at DePaul University, while personal training and participating in a variety of other sports including soccer. Beginning her career in Derivatives Trading, she pivoted and obtained both the highly respected ACSM Certified Personal Training Certification and Yoga Alliance certification (200 Hours).  As she opens her first storefront, RippedPHL, Katie recognizes the unique opportunity that she is creating for the city of Philadelphia by merging a high-intensity, interval-based training program with her elite brand of personal training.
In the fitness business for 17 years, Charbel is an intelligent and highly innovative master trainer with extensive experience in training.  Charbel started his career as a trainer and gym owner while studying Surveying and Practical Civil Engineering at the Lebanese University. When he moved to the United States in 2009, he not only brought his rich experience in fitness, but also his ambition to further continue his studies. He obtained a Bachelor's degree in Biochemistry and pre-medical in 2015 from Temple University. Charbel holds multiple professional training certificates, including the highly acclaimed International Sports Science Association (ISSA) as well as LES MILLS body pump and body combat.  Charbel's extensive knowledge and master training abilities has played an integral role in shaping RippedPHL's elite brand of fitness.